Hydraulic and pneumatic systems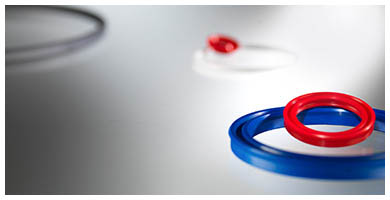 The division of Hydraulics and pneumatics of DIMER offers a comprehensive range of sealing elements and systems from elastomers, thermoplastic materials, PTFE (polytetrafluorethylene) and composite materials for static, rotary, reciprocating and special applications.

The well-proven geometry of the seals in combination with diverse, but specifically targeted input material is able to seal also atypical needs of our customers. By creating a properly designed assembly you will achieve the required sealing effect together with long-term durability.

We are able to fulfill your requirements - from design to implementation, including service.

An integral part of this group of sealing elements are O-rings - round sealing elements with high accuracy, special X-rings– with square cross-section and RSS - Radial shaft seals-ring grooves, RSS-GASKETS and other combinations of sealing elements.

Wide material and dimensional variations allow to perfectly seal up all liquids and gases within all industrial sectors.

We also offer a well-proven range of complete sealing sets - Seal kits for construction machinery-Sealing sets for construction machinery and sealing pistons - -Pistons for construction machinery- Pistons in construction machinery for construction machines, excavators, truck cranes, hydraulic hammers, etc.

We are ready to recommend and offer you the best alternative of sealing up your applications.

Catalogues download.


---
Hydraulic and pneumatic systems
Počet přístupů: [737264] ©2001-2020 Dimer, spol. s r. o.