Camprofile gaskets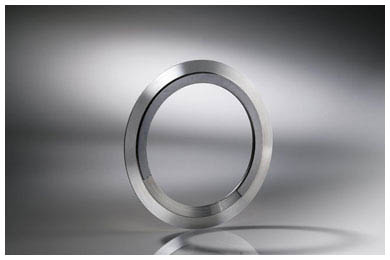 The series of grooved gaskets (camprofile) belongs to the group of semi-metallic gaskets where the sealing effect is ensured by soft layers on a metallic grooved core. Thanks to these soft layers the sealing surfaces of flanges are not damaged and in combination with a grooved convex core profile even slightly open flange joints can be sealed up.

This gasket type provides a high sealing effect also at small specific pressures, which allows sealing also under heavy-duty operating conditions. New sealing layers can be applied to the core and the gasket can be reused in the flange joint, thus the gasket becomes economically very efficient.

The camprofile gasket of the DIMERFLEX PT series is a highly effective sealing element in the environment with continuous temperature and pressure changes. The gasket is resistant to pressures up to 250 bar and temperatures up to 1100 °C.

The gaskets are produced for flanges according to DIN, ASTM, EN and ČSN standards (CZ) as well as in atypical designs including internal bars and in dimension as required by the customer. We are able to design and produce the shapes and design required by you even for the most demanding applications.

Soft sealing layers are fixed by a chloride-free adhesive and therefore, they fully satisfy all requirements of European standards and regulations.

Construction of camprofile PT4B (+BP)
1-parallel metal core (for new application we recommended th. 4,0mm, for existing th.3,0mm)
1a-outer / integral centring ring
2-soft layer elements (normal th. 0,5mm, or 1,0mm depending of the type
d1-inner diameter
d2-outer diameter of sealing element
d3-outer diameter of centring ring
s-total th. of camprofile
s1-th.of sealing layer
BP- break point (on request)
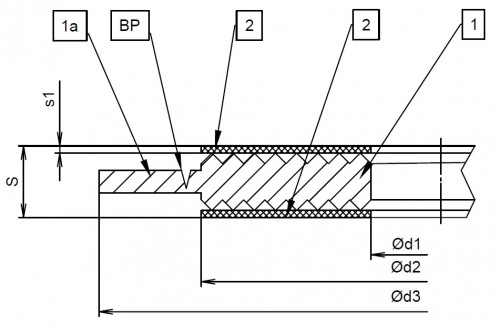 Type of camprofile
DIMERFLEX PT4A
parallel root core without centring ring
DIMERFLEX PT4B
parallel root core with integral centring ring
DIMERFLEX PT4C
parallel root core with floating centring ring
DIMERFLEX PT4E
smooth core without sealing layers
DIMERFLEX PT4E-G
smooth core with sealing layers
DIMERFLEX PT4X
convex root core with integral centring ring
DIMERFLEX PT4Y
convex root core without centring ring
DIMERFLEX PT4Z
convex root core with floating centring ring
STANDARD METAL CORE MATERIALS
materialAISI / ASTM
spec.acc.to 10207spec.acc. to EN 10027-2
BS
ČSN/CZ
temperature (°C)
hardness (HB)
min
max
carbon steel
238-C
RSt. 37.2 CS
1.0038
D/40B
11 375
-40
+500
100-120
low carbon steel
-
M2 / ARMCO
1.1003
S/LCS
-
-60
+500
90-110
stainless steel
304
X5CrNi 18 10
1.4301
304S 15/16/31
17 240
-250
+550
130-180
stainless steel
304L
X2CrNi 19 11
1.4306
304 S11
17 249
-270
+550
130-170
stainless steel
309
X15CrNiSi 20 12
1.4828
309 S24
17 251
-110
+1000
130-220
stainless steel
316
X5CrNiMo 17 12 2
1.4401
316 S31/33
17 346
-200
+550
130-190
stainless steel
316L
X2CrNiMo 18 14 3
1.4404
316 S11/13
17 349
-200
+550
120-170
stainless steel
316Ti
X6CrNiMoTi 17 12 2
1.4571
320 S31
17 348
-270
+550
130-190
stainless steel
321
X6CrNiTi 18 10
1.4541
321 S12/49/87
17 247
-270
+550
130-190
STANDARD LAYERS
material
temperature (°C)
pH
application
colour coding
min.
max.
FG (expanded graphite)
-200
+550
0-14
agressive medium
grey
PTFE (polytetrafluorethylen)
-200
+260
0-14
agressive medium
white
CER (ceramica)
-200
+1100
-
very high temperatures
light green
MIC (mica)
-200
+1000
-
high temperature
pink
DIMENSIONS AND SIZES - TYPE A / TYPE B

Table of recommended seating stress
material
seating stress for DIMERFLEX PT (MPa at +20°C)
min.
recommended
max.
FG (expanded graphite)
20
90
400
PTFE (polytetrafluorethylen)
20
90
350
CER (ceramica)
50
120
250
MIC (mica)
60
100
260
CSF (Dimersil)
40
130
240
TABLE OF recommended surface finish of flanges
roughness
value (µm)
application
Ra
-
3,2
6,3
-
recommended
Ra
1,6
-
-
12,5
acceptable under working conditions
Files to download
DIMER-Camprofile_PT_aj.pdf
---