Corrugated gaskets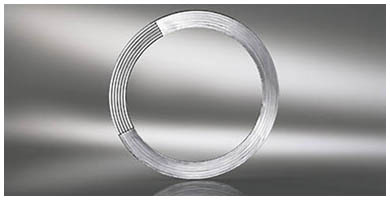 Semi-metallic corrugated gaskets of the DIMERFLEX NT series are universally applicable sealing elements for lower operating pressures, but in case of a suitable composition of the corrugated core (metal sheet) and the sealing material they can be used for pressures up to 140 bar.

Corrugated gaskets are produced in a variety of profiles and sizes in circular, oval, elliptical, square or rectangular frame shapes including internal ribs, with/without holes or fixing loops, in combination with flat sealing elements, or even with static insulation packings.

This products family is continuously growing and many improvements have been implemented to cover all customer needs.

We are ready to recommend, design and produce the shape you desire.

Standard core materials
material
AISI / ASTM
specification acc. to EN 10027-1
specification acc. to EN 10027-2
BS
ČSN/CZ
temperature (°C)
hardness (HB)
min
max
carbon steel
238-C
RSt. 37.2 CS
1.0038
D/40B
11 375
-40
+500
100-120
low carbon steel
-
M2 / ARMCO
1.1003
S/LCS
-
-60
+500
90-110
stainless steel
304
X5CrNi 18 10
1.4301
304S 15/16/31
17 240
-250
+550
130-180
stainless steel
304L
X2CrNi 19 11
1.4306
304 S11
17 249
-270
+550
130-170
stainless steel
309
X15CrNiSi 20 12
1.4828
309 S24
17 251
-110
+1000
130-220
stainless steel
316
X5CrNiMo 17 12 2
1.4401
316 S31/33
17 346
-200
+550
130-190
stainless steel
316L
X2CrNiMo 18 14 3
1.4404
316 S11/13
17 349
-200
+550
120-170
stainless steel
316Ti
X6CrNiMoTi 17 12 2
1.4571
320 S31
17 348
-270
+550
130-190
stainless steel
321
X6CrNiTi 18 10
1.4541
321 S12/49/87
17 247
-270
+550
130-190
Standard profiles
DIMERFLEX NT1
corrugated core without layers
DIMERFLEX NT1A
corrugated core with layers
DIMERFLEX NT1AE
corrugated core with layers and inner eyelet
DIMERFLEX NT2A
corrugated core with cover
DIMERFLEX NT10A
corrugated core with layers and cover
DIMERFLEX NT12A
corrugated core with layers and centering cover
DIMERFLEX NTAP
corrugated core with soft round materials
STANDARD soft layer materials
material
temperature (°C)
shape the surface layer
application
min.
max.
CSF (Compressed Soft Fibre)
-40
+250
flat
universal working area
FG (expanded graphite)
-200
+550
flat / square / circle
aggressive area
PTFE (polytetrafluorethylen)
-200
+260
flat
aggressive area
CER (ceramica)
-200
+1100
flat / square / circle
very high temperature
G (glass)
-200
+650
square / circle
high temperature
MIC (mica)
-200
+1000
flat
high temperature
Standard profiles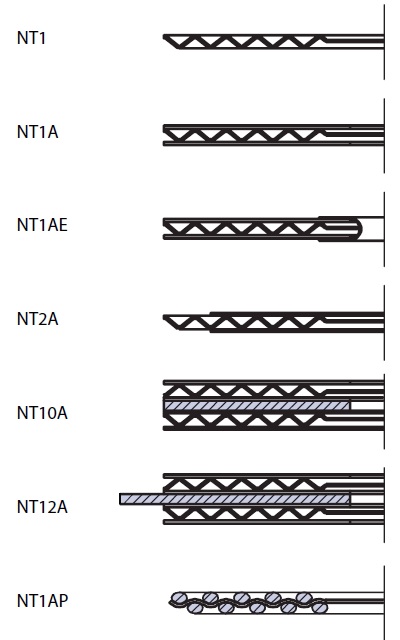 Standard shapes

---