V-rings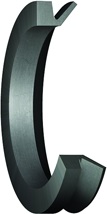 V-rings are used as shaft and bearing seals e.g. to avoid entry of dirt, dust and dispersed water emulsion, etc. The shaft seal of type V-rings is an exceptionally economic solution, since it does not require precise treatment of counter-surfaces, it is easy to install and does not expose the shaft to any wear, which was verified during the tests with all shaft types.

For more information please see our catalogue (Catalogues download).
---
Hydraulic and pneumatic systems
Počet přístupů: [737297] ©2001-2020 Dimer, spol. s r. o.