Metal Jacketed Gaskets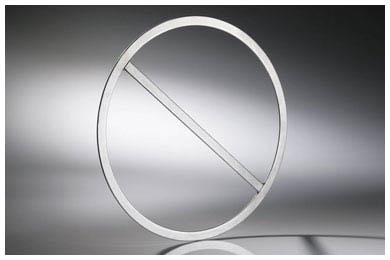 DIMERFLEX OT metal jacketed gaskets consist of a soft sealing filler metal packaging and a solid metal jacket. The sealing filler ensures compressibility and flexibility, while the metal jacket ensures adequate compressive strength and resistance to blow-out.
Depending on the jacket type, the metal jacketed gaskets can stand up to 30 % of deviation from their initial thickness, which is very useful in case of irregular or faulty flange rims.

The gaskets can be produced from various materials and in different shapes and they are especially suitable for the application in heat exchangers.
It is the material variability of the sandwich jacket that allows perfect adaptation to any operating conditions.

DIMERFLEX OT gaskets are delivered in a variety of designs including integrated or welded bars, or they can be produced in square, rectangle, oval, elliptical or other shapes.
Structure - DIMERFLEX OT2
1a-cover metal material
1b-top cover metal material
1c-another metal cover material
2-soft filler encapsulated in metallic material
s-total thickness
s1-thickness metallic cover
d1-inner diam. of sealing surface and metal coating
d2-outer diam. of sealing surface and metal coating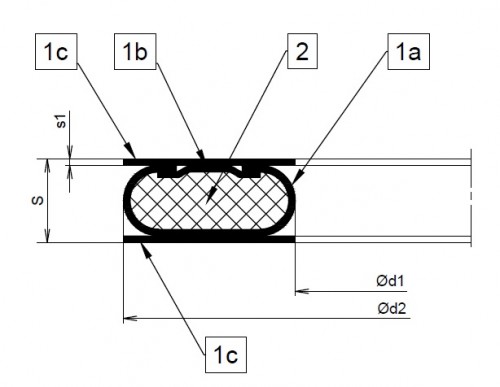 Basic profiles
DIMERFLEX OT0
soft mat. encapsulated in metallic material
DIMERFLEX OT1
oval cover with top metallic layer (SC)
DIMERFLEX OT2
oval cover with two metallic layers
DIMERFLEX OT3
oval cover with inner insertion
DIMERFLEX OT4
oval corrugated cover
DIMERFLEX OT6
inner metal eyelet
DIMERFLEX OT7
double inner metal eyelet
DIMERFLEX OT8
inner metal eyelet
DIMERFLEX OT9
oval cover with centering ring (C/O)
Materials for coating
material
AISI / ASTM
specification acc. to EN 10027-1
specification acc. to EN 10027-2
BS
specification acc. to ČSN/CZ
temperature (°C)
hardness (HB)
min
max
low carbon steel
CS
St.3 / St.13
1.0333
2CR/CS 3CR/CS
11 301
-50
+500
max.90
stainless steel
304
X5CrNi 18 10
1.4301
304S 15/16/31
17 240
-250
+550
130-180
stainless steel
316
X5CrNiMo 17 12 2
1.4401
316 S31/33
17 346
-200
+550
130-190
stainless steel
316L
X2CrNiMo 18 14 3
1.4404
316 S11/13
17 349
-200
+550
120-170
stainless steel
321
X6CrNiTi 18 10
1.4541
321 S12/49/87
17 247
-270
+550
130-190
stainless steel
316Ti
X6CrNiMoTi 17 12 2
1.4571
320 S31
17 348
-270
+550
130-190
monel (NiCu30Fe)
Alloy 400
NiCu30Fe
2.4360
3072-76 NA13
-
-130
+600
110-150
copper
copper
-
2.0090
-
copper
-250
+400
50-80
brass
brass Ms63
-
2.0321
brass
brass
-
+
60-90
Titanium
B348 Gr.1
Ti 99.8
3.7025
-
-
-250
+350
110-140
Materials for filler
material
temperature (°C)
min.
max.
FG (expanded graphite)
-200
+550
CSF (Compressed Synthetic Fibre )
-40
+250
CER (ceramic)
-200
+1100
Basic profiles
---